Posts tagged
fluid
We're no longer new to the world of indoor trainers after having tested and reviewed a lot of models, but of course, still can't claim to have tried every single bike trainer out there. What we do know, however, is that the legendary brand of Schwinn have gone and released yet another killer product that will please a lot of cycling fans looking to stay in shape over the off-season – yep, the Schwinn Fluid trainer is certainly a trainer to consider if you're after quality and staying power!
The Schwinn is very well-constructed and carefully designed, and you're going to be shedding some pounds this winter with this one in your man cave!
We've recommended it to all a few fellow bike enthusiasts getting started with indoor training, and won't be surprised to see one in their houses the next time we swing by for a drink!
Click here for more Schwinn trainer reviews and the latest discounts!
Read on for our full review…
Why you'll love this Schwinn Fluid trainer…
If you've been putting off buying an indoor trainer for ages because there aren't any trainers that are ready to use right out of the box – and if there's someone who is worse at this DIY assembly stuff than me, I'd like to meet him – then think again. With this Schwinn trainer, you'll be pleasantly surprised at how easily and quickly everything comes together. It took me all of fifteen minutes to set up, while others who have reviewed their purchase online have mentioned setup times of just 5 minutes!
The hand-clamping mechanism for securing the bike was especially convenient and very intuitive. Fortunately for me, it fit my mountain bike's large 700 cc tires just fine and will most definitely fit other commonplace tires as well. I also appreciated the effort Schwinn put in to deliver a complete package. Every part I could possibly have required was in the box, including a skewer for the wheel axle capable of fitting 5-7 gear cassettes. All in all, I started my first training session within an hour of receiving the delivery from Amazon.
When it came to the riding experience, I was also blown away. For the price, I'm pretty sure you won't find a better fluid trainer out there. It might be just over the $200 mark, but seriously, this is a great deal for the benefits a fluid trainer can provide you over the cheaper magnetic resistance trainers.
For starters, the Schwinn Fluid Resistance trainer is remarkably stable, and this is coming from someone who can usually be found with his butt half out of the saddle, pedaling as if my life depends on it. I think this must be down to the wide-leg design and the very secure hand-clamping system. Since I let my children on my bike sometimes, stability is a very important feature for me, and I feel completely safe letting my kids use this trainer.
Secondly, the machine was very quiet. I have some of the most intolerant neighbors on the planet, and I've had them banging on my door more than once complaining about loud footsteps or noisy television shows, but I haven't had a peep from them about my indoor cycling. Considering I tend to train late at night or before dawn (a working adult's got to make do with what little free time he has, right?) this is very impressive. The fluid resistance technology certainly lives up to its billing of being one of the quietest systems out there for indoor bike trainers.
Lastly, the fluid resistance system is a really smooth operator. I haven't done any maintenance in the four months since I've received it, and the ride experience is still extremely enjoyable – no creaking, jerking or wobbling that might distract you from your training! Schwinn's done a good job of simulating outdoor cycling here. The fluid-based system is, quite astonishingly, able to replicate that exhilarating feeling of coasting down an open road – minus the wind, rain and other niggling discomforts that make open-road cycling in the dead of winter a dubious proposition at best.
Oh, and before we wrap it up, we forgot to mention that this one is also made in the USA. For those of you keen to support home-grown talent and businesses.
But…what's the catch?
I'm sure you're wondering, "What's the catch?". Fantastic indoor bike trainers don't usually come cheap, and at just over two hundred dollars, the Schwinn Fluid Resistance trainer clearly falls squarely into the "affordable" category. Well, with this bike trainer you won't be getting a lot of the high-tech features you might enjoy if you forked over a thousand dollars for a luxury model like the CycleOps PowerBeam Pro. For example, there's no 12-level adjustable resistance or smartphone compatibility. It could also certainly be made out of heavier metal, and a fold-able frame would be nice.
However, it would be grossly unfair to criticize this Schwinn product for lacking these bells and whistles. It's an entry-level fluid bike trainer, and I have to evaluate it on that basis. If you want a bike trainer that gives you a safe, smooth and comfortable ride, and is capable of sustaining you through the off-season with challenging and realistic workouts, the Schwinn fluid trainer gets the job done with great aplomb. It's hardy and designed with the serious cyclist in mind – what more could you ask for? Stop sacrificing your fitness gains when winter comes around, and click that button below to grab your Schwinn indoor trainer today!
We recently came across this bike trainer and love it – the Cascade Fluid Pro Trainer!
It might not have the name of a known brand like Kinetic or CycleOps behind it, but this superb trainer really does give one heck of a ride. The manufacturers proudly state that it will keep you training longer, and we have to agree to some extent; we found it incredibly easy to keep pedaling!
The major selling point with this bike trainer is its thermally sealed fluid drive, which should see years of service without leaks, much like many of the top level stationary trainers (like one of our faves, the Kurt Kinetic Road Machine).
It's typically priced at just over $300, which admittedly puts it at the top of the price range for many stationary trainers. But this is one that offers a great riding experience and is therefore definitely one to consider if you're looking for something top quality.
Click here for the latest price-saving deals on Amazon for the Cascade Fluid Pro!
Why we were impressed with the Cascade Fluid Pro Trainer…
A few things impressed us with this trainer:
It was very easy to setup with what the manufacturer calls a "quick connect", and get going almost immediately (within approximately 10 minutes); even for those of you who have never set up a stationary trainer, we'd imagine this one would cause no problems whatsoever.
The trainer is stable and you can really ride quite hard without that feeling you get with the cheaper models that you might topple over. You really can put some grunt into your training sessions with this one – sprinting, accelerating, whatever you need!
The ride is very smooth; the resistance is very smooth as you ride through your gear range.
The front riser that comes with the trainer (and that would typically set you back $10-$20) gives you THREE separate height variations.
The back flywheel is very quiet, and you really can enjoy a training session without the headphones! Of course, a slick racing wheel will always be quieter than a knobbly mountain bike wheel, just so you know.
The trainer is fold-able and hence easily storable/movable! The orange legs you can see in the image above, just fold back into the main frame and then you can just slide it under the bed, or wherever it needs to go.
You can see this is one quality product, very well built and hence giving you a smooth, quality ride.
One thing we should point out is that the trainer comes with a quick release skewer that really should be used (the trainer seems to fit very snugly into the supplied skewer and there have been reviews online that suggested it was the ideal option rather than use your bike's existing skewer). If you don't have a quick release skewer on your bike, I doubt this will work as recommended, and as described above, but it may work OK for you – just something we had to point out!
So, does the Cascade Fluid Pro offer value for money?
Well, if you're looking for a superb, lifelike training session, then yes. It is a little pricey, but we can safely class this alongside the Kurt Kinetic Road Machine and CycleOps Fluid 2 as one heck of a bike trainer. There's no doubting its ranking in our list of best bike trainer stands for 2014. There are cheaper trainers out there, of course (see our guide to the best value options under $80 for example), but this is superb quality that the pros and serious cyclists of you out there will truly enjoy.
And here's a superb little video that highlights some of the great features of the Cascade Fluid Pro Trainer:
I think I might have already covered why I like the Kurt Kinetic Road Machine so much (you might want to read this if you are unfamiliar with this amazing bike trainer) but this post is for those of you interested in the finer details, the techie stuff.
One of the major factors in considering any trainer from those guys at Kurt Kinetic has to be the resistance unit that comes with the trainer. A quite stunning piece of machinery that has ensured their trainers stay at the very top of any bestseller chart – as well as at the top of many a wish list.
The fluid resistance unit is out there on its own in terms of power and performance, especially with its non-leaky unit, something that often impacts the cheaper fluid trainers.
The unit includes 6.25 pounds of true flywheel, the biggest out there (by more than double!), an almost 3 inch roller that ensures less heat heading towards the resistance chamber, and 90ml of medical grade silicon, which is thermal dynamically neutral (which in layman's terms means your workload is measurable, repeatable, and consistent).
And it all comes with a lifetime warranty guarantee (so even if you do KILL your trainer and it eventually leaks, you're covered)!
To sum it all up, we found this great video from the Kurt Kinetic team, it's well worth a look if you're considering one of their stands…(and don't forget their new smart trainer version of the Rock n Roller)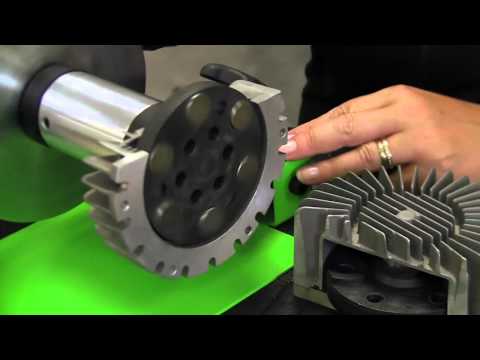 >>> Read all about the CycleOps resistance units and how they work